Super Bowl – One Year Later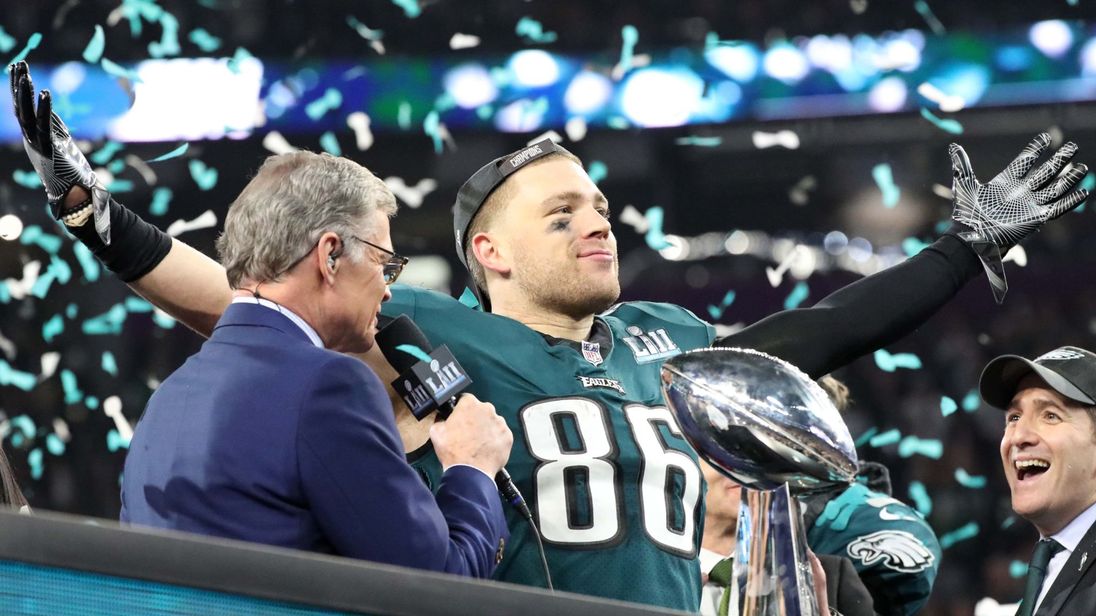 I HAD A BASKETBALL COACH who once taught us that a basketball game was like a microcosm of life. It has a beginning and it has an ending. In between it is filled with decisions to make and challenges to face. You learn how to work together with others, and you discover the importance of the role you play to help the team succeed. You can learn a lot about life through sports.
That being said, after reflecting on a "year at the top of the NFL," here are a few "spiritual" thoughts to consider.
Reign: Even though the Eagles are not in the Super Bowl this coming Sunday, as of this writing they are still "the reigning champs!" I can hear the song by Queen playing in the back of my mind, "We are the champions, my friend." But...not for long.
The annual crowning of a champion is a reminder to us how fleeting things are in this life. One moment you are up and the next moment you are down. And even when you get to "the top"- whatever "the top" happens to be for you – you can't help but wonder to yourself, "is this it?"
That is what Tom Brady said in a 60 Minutes interview, as he was reflecting on his success. Recognizing the fleeting nature of human success, he wondered out loud, "Is this it? There has to be more than this." It feels good for a time, but it can't fully satisfy and it quickly fades.
But that is the beauty of Jesus. His reign is eternal. His victory lasts forever. His reign brings us lasting and unending delight. Listen to the joy of those who take delight in God and in the reign of Jesus through the words of the prophet Isaiah in Isaiah 52:7.
"How beautiful upon the mountains are the feet of him who brings good news, who publishes peace, who brings good news of happiness, who publishes salvation, who says to Zion, Your God reigns."
Commitment: I am amazed at the level of training a professional athlete commits to in order to compete at the professional level. Long hours of training and rigorous routines and special diets are all part of what it takes to be a professional athlete.
Paul uses athletics and physical training as an illustration for the Christian life. In 1 Timothy 4:7 he tells Timothy, "Train yourself for godliness." Then pulling from the world of athletics, Paul says, "for while bodily training is of some value, godliness is of value in every age, as it holds value for the present life and also for the life to come."
Athletes commit themselves to train for something that has some value. We spiritually train ourselves for something that has lasting value. But do we match their tenacity and vigor? We can learn about what it means to train ourselves by watching them train.
Worship: I love sports! And yet it seems to me that many fans "worship" their teams. It sure seems that way.
C.S. Lewis said, "I think we delight to praise what we enjoy because the praise not merely expresses but completes the enjoyment; it is its appointed consummation. It is not out of compliment that lovers keep on telling one another how beautiful they are; the delight is incomplete 'til it is expressed. It is frustrating to have discovered a new author and not to be able to tell anyone how good he is; to come suddenly, at the turn of the road, upon some mountain valley of unexpected grandeur and then to have to keep silent because the people with you care for it no more than for a tin can in the ditch; to hear a good joke and find no one to share it with…The Scotch catechism says that man's chief end is 'to glorify God and enjoy Him forever.' But we shall then know that these are the same thing. Fully to enjoy is to glorify. In commanding us to glorify Him, God is inviting us to enjoy Him."
May we delight more in Jesus than we delight in our teams. And may that delight be reflected in our worship and in our sharing with others the source of our delight. We talk about what we love and we love what we talk about. May we talk about Jesus!
Regarding the Eagles…there is always "next year."