Caring Hands Ministry
I like the name of this ministry – Caring Hands – it is warm and inviting. I immediately see in my mind's eye the hands of one person tenderly holding the hands of another in a loving and caring way. I see, too, the hands of loving women who creatively use their talents to extend kindness to others.
I was excited to learn more about the Caring Hands ministry through both its originator, Bonnie Solberg, and the ministry's current leader, Ruth McDermott.
Caring Hands was birthed from WEFC's Women's Ministry and is made up of a group of women who enjoy working with…you got it - their hands! Now, you don't need to be expertly "crafty" to work with these ladies. You just need to enjoy using your hands to make items that will be a blessing to others.
All items crafted by Caring Hands members are handmade. They make hand-knit caps for distribution to chemotherapy infusion sites; prayer blankets that bring comfort and encouragement to those who are ill or hurting; knitted winter hats and scarves that are donated to inner city students…and for many years, Caring Hands made dresses for little girls in Haiti.
In addition, the Caring Hands ministry donates adult clothing protectors, shawls, lap blankets, bags for walkers, and more to Maple View Heath and Rehabilitation Center, WEFC'S neighbor on Maple Street. A warm relationship has been established between this facility and the church, and the Caring Hands team enjoys serving its community in this way. This ministry recently offered to make fleece hats and scarves for the patrons of Hands Open Wide (HOW) food pantry. This kind gesture will no doubt be met with much enthusiasm and grace from the guests that HOW serves.
Did you know that you can request a prayer blanket for family, friends, co-workers and neighbors... and that Bonnie will embroider a bible verse on the blanket, too? She describes Caring Hands as a wonderful "bridge-crossing" ministry and shared her excitement in learning how many of the prayer blankets were given to people who have yet to come to Christ. This outreach is indeed an opportunity to cross the bridge and to share the love of Christ with others.
So, ladies, if you enjoy working with your hands and giving of yourself through the use of your hands, please consider joining this loving and caring ministry. The group typically gathers at WEFC on the second Friday of each month from 9:00 – 12 noon. The group will next meet on September 10. If you would rather work from home, that can easily be arranged. Remember, you don't have to be particularly adept at using a sewing machine or a pair of knitting needles – there are plenty of ways to use your hands to help others…and kits can be put together for you as well.
Please consider joining this ministry of compassion and encouragement – as you bless others you will in turn be blessed. If you would like more information about the Caring Hands Ministry and/or would like to request a prayer blanket, please call the church office at 860-563-8286 or visit our webpage. Don't be shy – you will certainly be welcomed with Caring Hands.
Some of our faithful crafters, past and present, displaying their handiwork!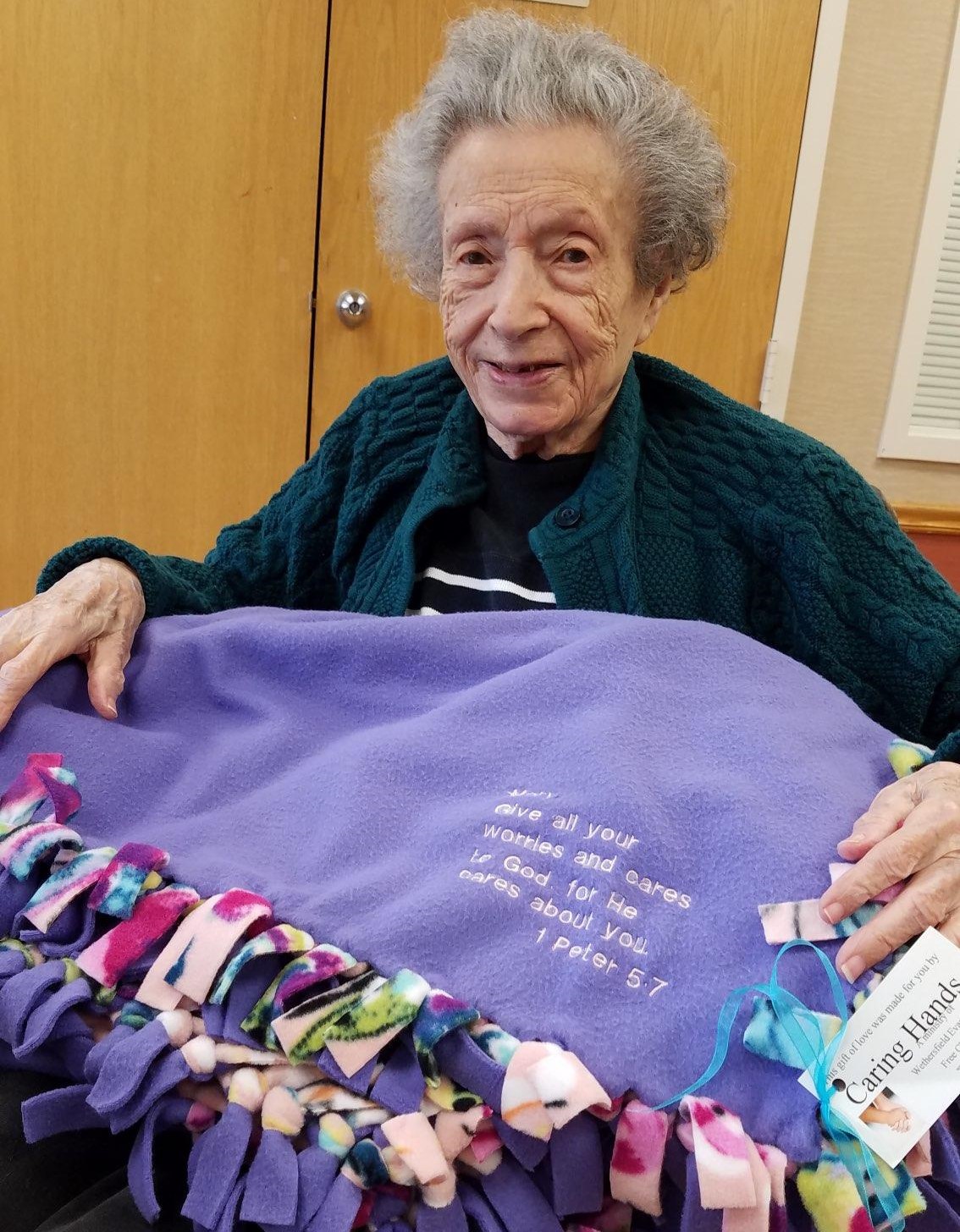 Mary Atheneos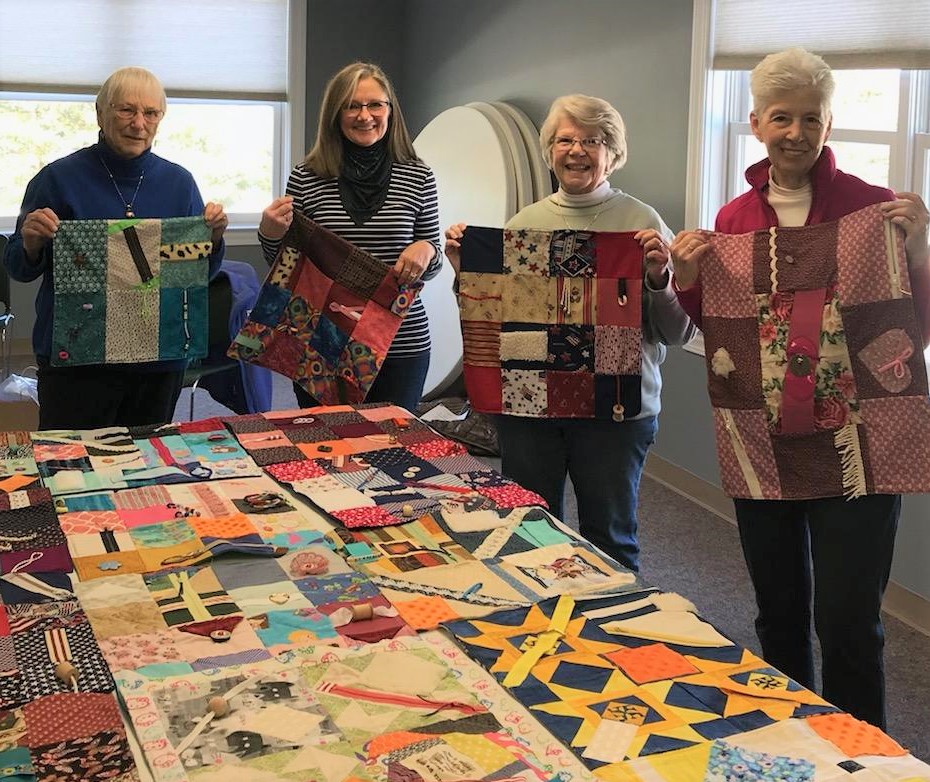 L to R: Marlene Anderson, Ruth McDermott,
Linda Jensen & Carol Patterson