HOW Food Pantry Update
HOW Food Pantry Update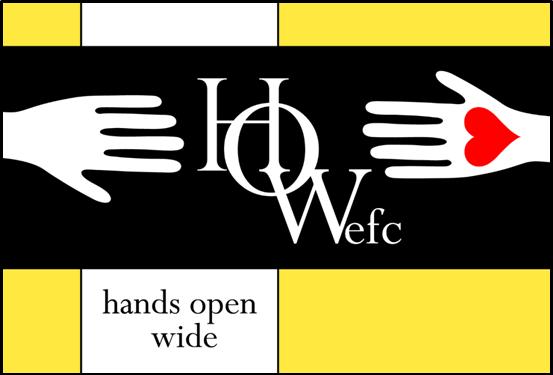 IT'S HARD TO BELIEVE that the Hands Open Wide Food Pantry (HOW) will be celebrating its 10th year in 2021! This ministry, which originated within a small group, has only grown over the years – especially in 2020!
Let me introduce you to the steps involved in the monthly food distribution, and how your generous donations are being used.
Hands Open Wide partners with Foodshare, a regional resource for obtaining food for its distribution program. Every month HOW volunteers are busy doing the following:
A HOW leader orders an assortment of healthy, non-perishable food items on-line (along with some tasty cookies and snacks).
When additional food items are needed, a volunteer will buy those items to supplement what has been purchased from Foodshare.
Yet another volunteer drives to Foodshare's headquarters in Bloomfield to pick up the order.
Once all the food is on hand at the church, volunteers gather on the Friday before the monthly food distribution to fully pack grocery bags. Two bags of groceries are given to each family together with a gift card and bread, which are also purchased by HOW volunteers.
HOW serves the community on the 3rd Saturday of each month. Since February, it has seen the need for food grow from an average of 35 families to a high of 65 families just this past Saturday! Due to COVID19, HOW has been distributing food via a drive-thru system, and it has been working quite well.
It is because of the generosity of you, the church body, that HOW is able to continue God's work of service to others. Not only does this ministry receive monthly monetary donations through your kind giving, it also receives non-perishable food items as well – THANK YOU!!
Additionally, HOW has been the benefactor of monetary donations from local businesses, friends of the church, state, and local agencies. Here are just a few of the acts of kindness from our community and beyond:
HOW was awarded a grant from the State of CT during the pandemic so that the food pantry can continue its mission to distribute food.
Town Fair Tire in Wethersfield demonstrated kindness by making a most substantial monetary contribution.
WEFC pre-school family twice contributed a generous monetary donation to the food pantry.
As you can see, HOW has been consistently and generously supported during these last 10 years. We are humbled by the compassion shown to our fellow man, and we praise God for his provision in this way. It has allowed HOW to bless others with the blessings it has received.
For example, we were able to partner with *The Hartford Project (THP), in support of their annual summer outreach. HOW provided funds for 200 'blessing bags' assembled by WEFC Children & Student ministries. We were also able to bless THP a separate donation of $750.
God is at the center of it all – thank you, Jesus; and thank you one and all for allowing the Hands Open Wide Food Pantry to provide a tangible way to reach our community and beyond.
All of us on the HOW team, as well as our committed volunteers, feel privileged to serve Jesus in the way.
*The Hartford Project is a collaboration of churches who minister to the City of Hartford
In His Service and With Sincere Appreciation,
Kathy Briggs, Janice Catrone & Leah O'Leary
WEFC HOW Leadership Team